NOT YOUR AVERAGE DIGITAL ILLUSTRATION COURSE!!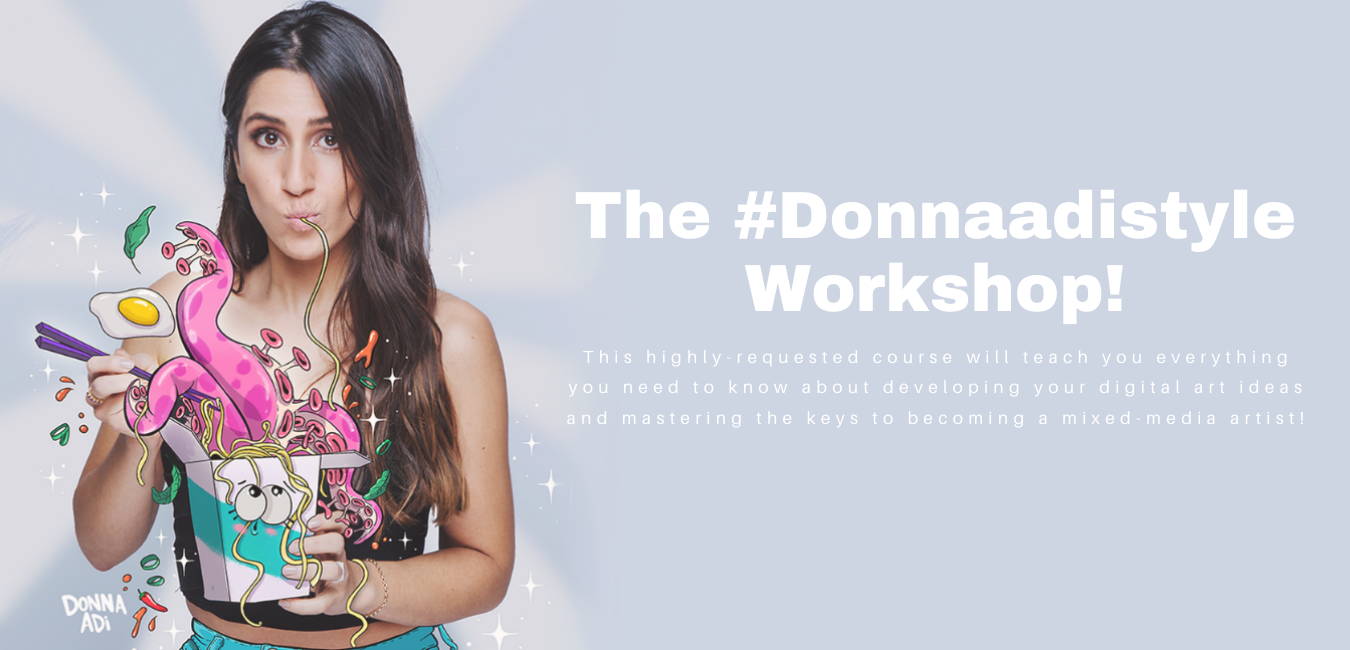 The #DonnaAdiStyle Workshop
This crash course is a live introduction to everything you need to know about drawing on photos in 3 hours via zoom!

Transform your ideas into your next portfolio pieces. Unlock your new process of creating mixed-media digital art!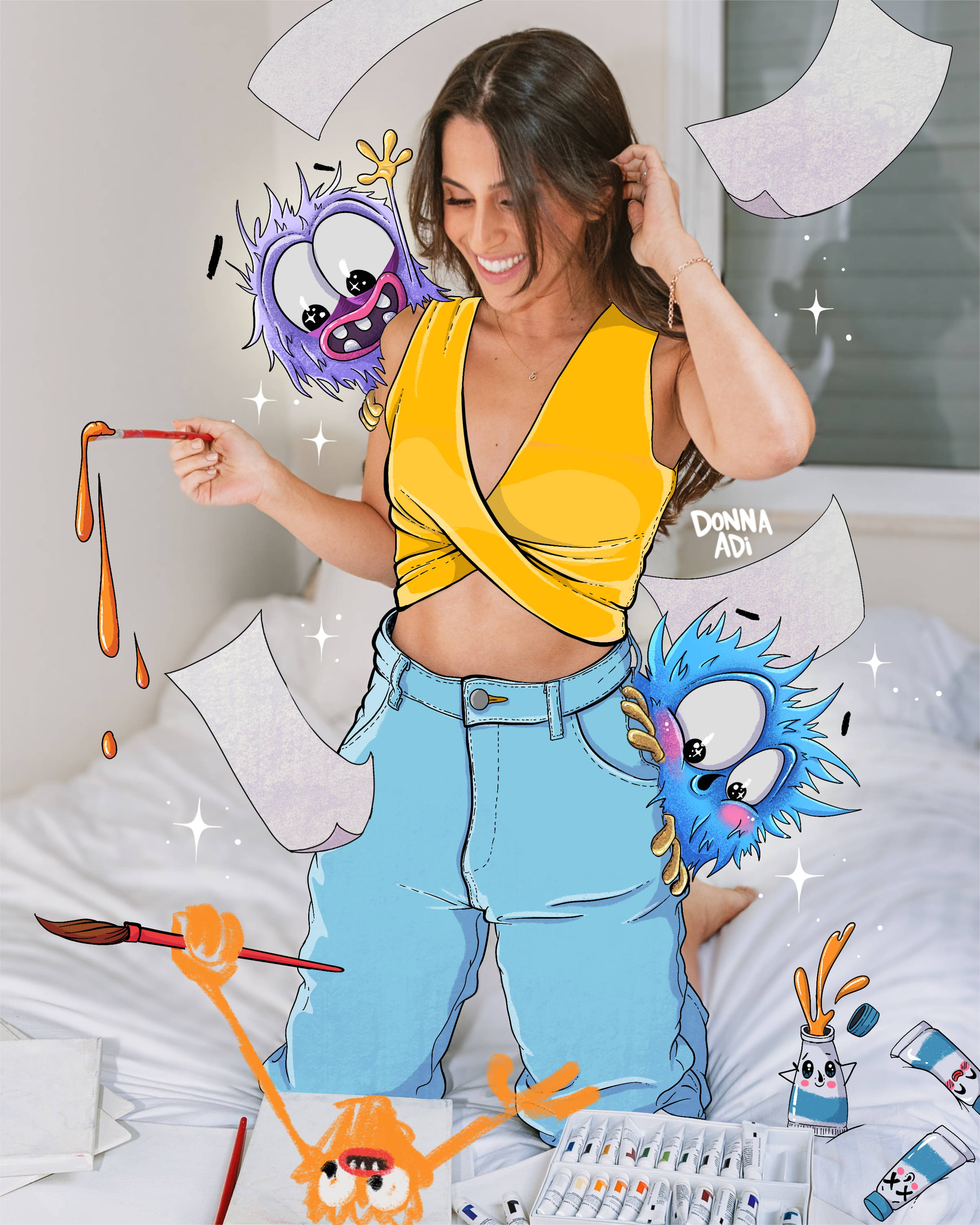 This Course Will Help You Learn How To:
---
Tackle your fear of "The Blank Page"
How to transform your ideas from pencil to digital

Create easy edits that make your image pop

Add your own unique and personal touch to your work

Learn my step-by-step workflow

My approach to coloring my work

Avoid the major mistakes that I made starting out

Utilize my shortcuts to make art faster

Reinvent your portfolio
I'm breaking down my entire process and giving you my step-by-step approach so that you can confidentally do it too!!
---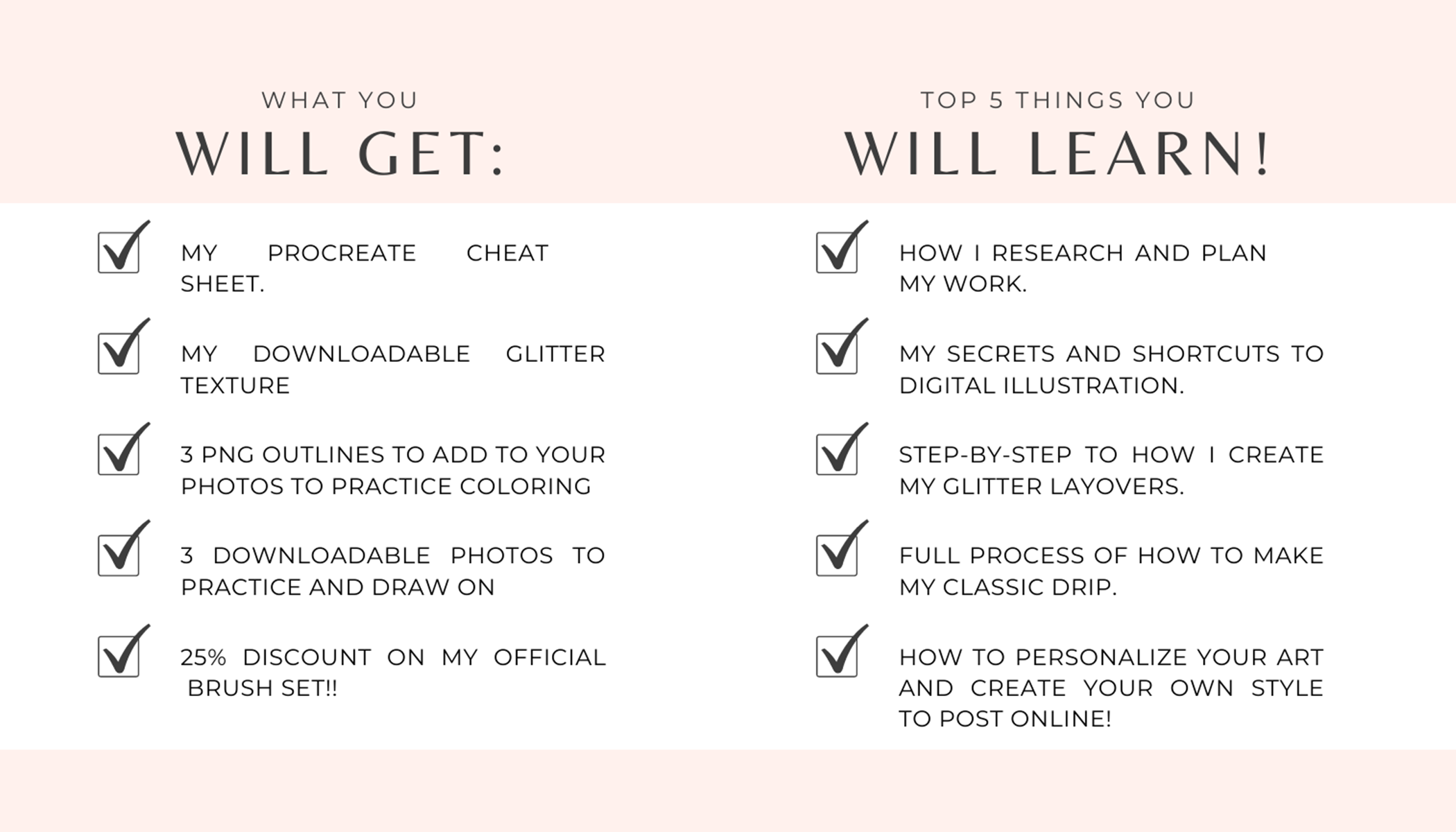 This is the class I wish I took before I started drawing on photos!
And now I'm giving it all away!!
This Course Will Help You Improve Your:
In this course you will get to learn all about my three pillars of creating and producing your future work in an organised fashion that is a lot less stressful and allows for much more freedom.
Boost your productivity levels through planning your work in advance! Create you new freedom through conceptualising and drafting concepts in advance.
Boost creativity through research, learning new key functions in mixed-media digital art, drawing techniques, brainstorming and the art of using references.
It's so important to stand out today! Learn to build your creative identity through mastering your own individual style and becoming recognized for your signature work.
What You Will Need To Participate:
Beneficial but not necessary to have a drawing tablet

Drawing app such as: photoshop, procreate,

Pen and paper if you don't have a tablet. (You can draw with a mouse on photoshop!)
I'm breaking down my entire process and giving you my step-by-step approach so that you can confidently do it too!!
YOUR QUESTIONS ANSWERED
(AKA FAQ's):
Do I need to be an artist?
No, everyone starts somewhere and if you're ready to get into the art of mixed-media or digital illustration, then this will be a great introduction of what to expect when getting started!
What level of digital artist do I need to be for this workshop?
This is for all levels but I do recommend familiarising yourself with the procreate or photoshop platform. Digital art is much like drawing on a pen and paper but just digital. You need to learn the tools and their purpose on the application to make it work for you. If you're a beginner, I will be sending you a little cheat sheet before the lesson to help you further understand Procreate. I do recommend reviewing it in advance so that you're ready to run with me!

If you are already a digital artist, then you will be ready to jump right in and learn my process without having to do some homework in advance. There may be some new shortcuts and features related to my process that you will learn so stay tuned for that!!
What If I Can't Make The Workshop?
All of those who are in a different time zone, can receive a replay to the class that. Please notify us in advance if this is you!!
What is the return policy?
We will be spilling all of the secrets and details of how to create mixed-media work. You will receive pdf's and downloads so, in respect to all the other students in the class, all purchases for this workshop will be final sale.
Generally, admission for an in person workshop can range between $400-$600. A semester to study a general digital illustration can start at $1,000. My goal is to provide you with a high-quality course which includes a variety of valuable information and a similar experience to an in-person workshop. Since this is online, we're able to cut the costs of creating a physical space and just focus on creating the best possible lesson! This is everything that I have learned in the last 10 years handed to you in one class for $197 including many downloadable sources that you get to keep for your work!!
Where will it take place and for how long?
The workshop will take place on Zoom for 3 hours. You will receive an email prior to the workshop with all of the details.
Can we ask questions during the Workshop?
Yes, there will be a 30 minute Q&A session at the end of the lesson where you can ask all of your burning questions!
For all additional questions, please email info@donnadi.com
---
---

Donna Adi is an artist and creative director from Los Angeles whose illustrative twists have taken the internet by storm. Today, she orchestrates brand campaigns and events for major companies like Balmain, Puma, Google and Michael Kors. Her emergence onto the scene dates back to 2016, when she created a popular multimedia art style that has since gone viral - one in which she combines vibrant illustrations with lifestyle and fashion photographs.
Her artwork unveils deeper stories within the photographs and has caught the eye of celebrities such as Hailey Bieber, J Balvin, Elsa Hosk, Winnie Harlow, Gigi Hadid and Olivia Culpo, among others.

Featured in: Forbes, Harper's Bazaar, Vogue, Cosmopolitan.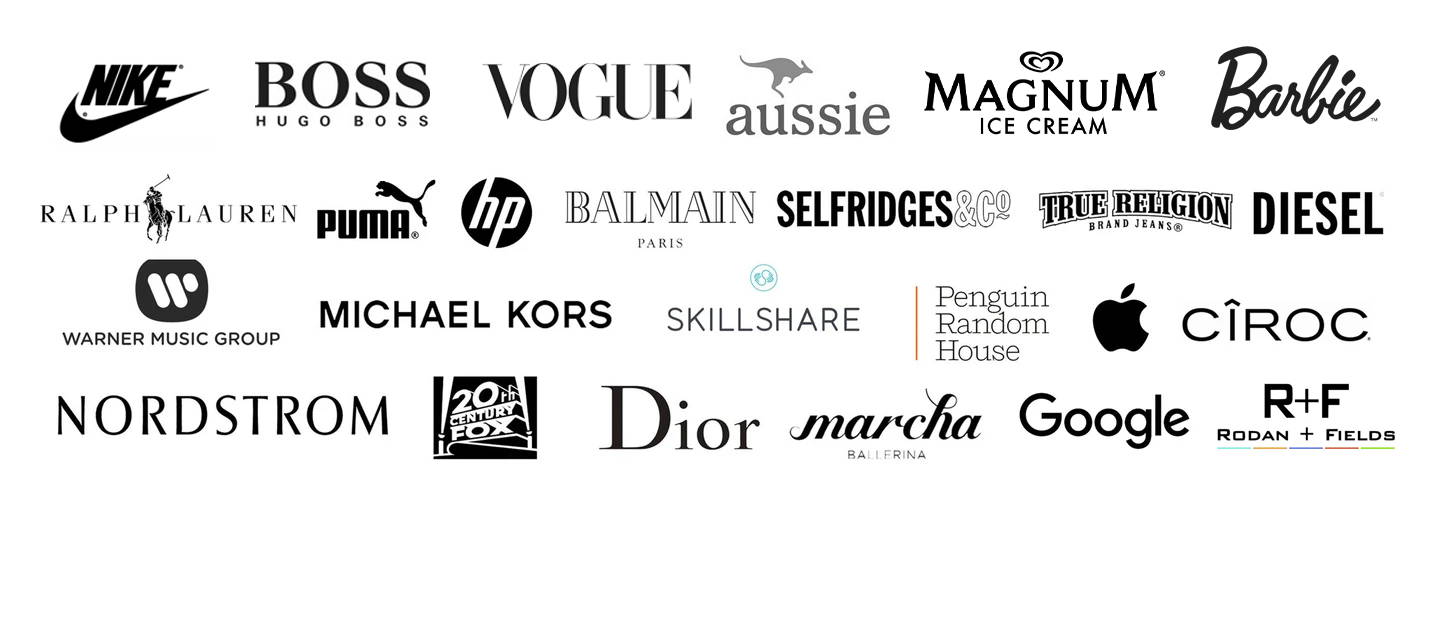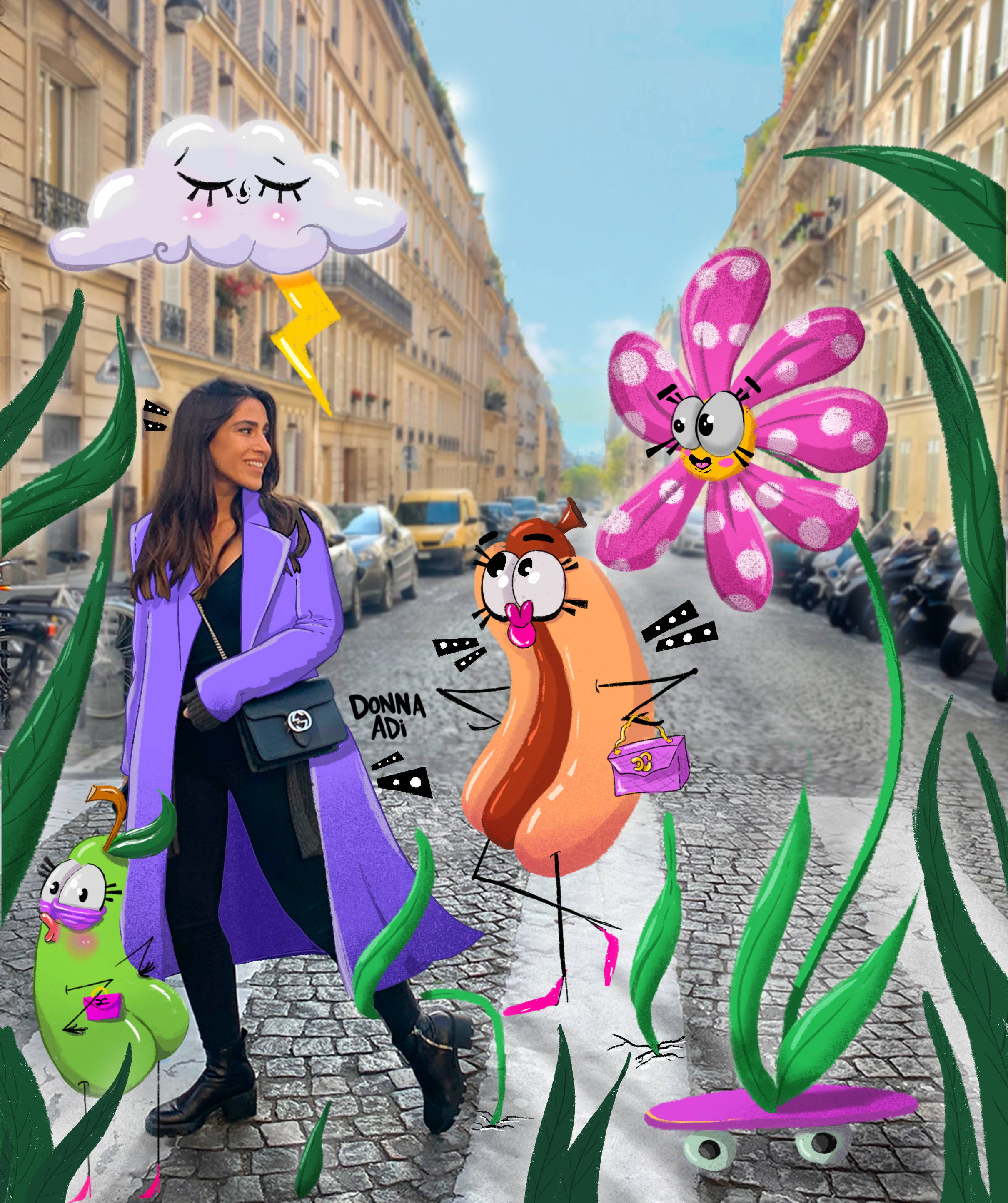 NOW WHAT ARE YOU WAITING FOR?!
Time to free your inner mixed-media artist!!